Rolleri Vario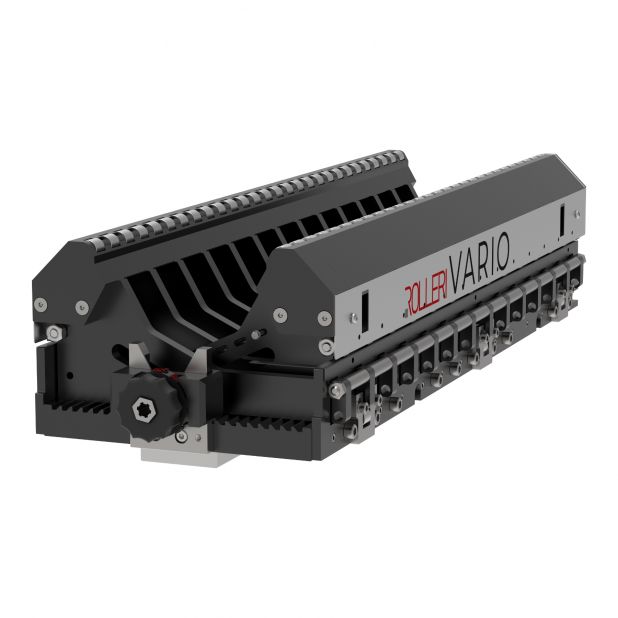 Rolleri Vario is a patented adjustable die system. We can equip a press brake with a single tool and change the system "V" opening through the CNC or manually.

Rolleri Vario main features are:
ease-of-use,
maximum load up to 3000 kN/m based on the models,
60° bending angle to better manage the sprinback of the sheet metal,
modular structure in length.
Rolleri Vario is born with 1000 mm standard pieces, which can be merged in one single die with a minimum length of 1000 mm, up to the full length of the press brake.
Our models on the market are now from 1 to 12 meters length.
Single units can always be set individually, obtaining different v openings on the same press brake. Thanks to this modularity it's possible to obtain different radius and bending angles.
Its functioning its extremely practical, it's a pneumatic system which releases the whole structure from the supporting rack, in order to reach the selected "V".Once the position is set (manually or by CNC) the air pressure drop (standard pressure 6 bar) and the structure is ready to work.
The system takes 5 second to go from the narrowest to the largest "V".
The system is equipped with a device that produces an acoustic signal when the position is correct.
Another very important feature is the use of rotors instead of the more classic radius of conventional dies. These are heat-treated rotors that rotate on a central spindle that ensure the rotation even in presece of calamine.
This application reduces the force needed for sheet metal bending by 25-30%.
Rolleri Vario is built with high resistance steels and the base is induction hardened.
It's also equipped with a protective sheet to quickly put on to protect the internal parts from dust and material residues.
Rolleri offer a standard system with the narrowest "V" of 40 mm up tu the largest of 400 mm.
4 models available with maximum opening og 200 mm, 260mm, 300 mm and 400 mm with 20 or 25 mm pace.

Every system can be manual, with an indipendent control unit, or connected to the press brake CNC.
It's also possible to use rolleri Vario with an optional holder in order to use that as an adapter for type R1, R2, R3 and R4 dies.

Rolleri Vario it's a mix of technology, practicality, safety and saving: Average setup time drops by 85%, no more unnecessary weights movement for the operator and lastr but not least, the investment is much more convenient compared to the cost of all single standard dies that you will have all-in-one with Rolleri Vario.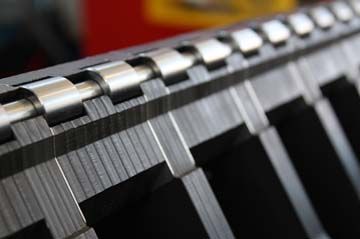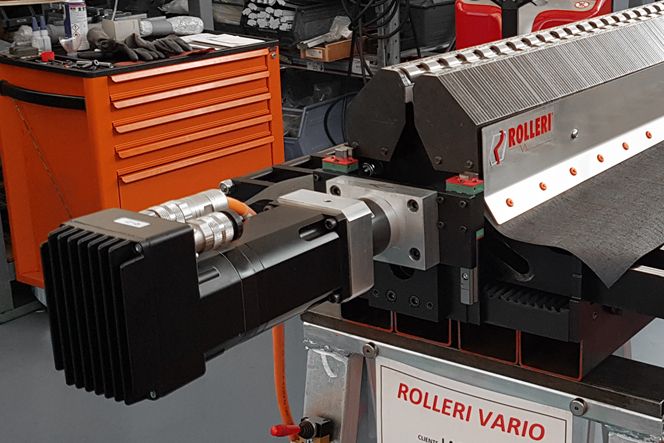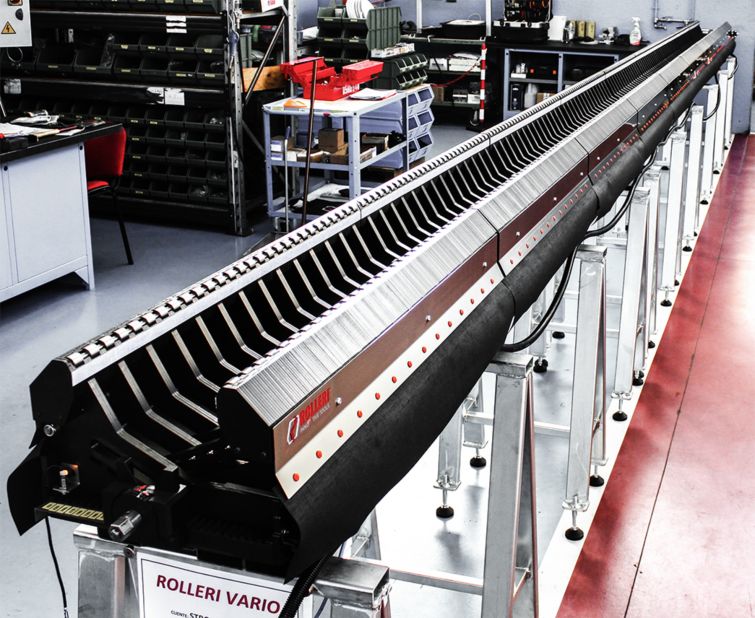 | | | | |
| --- | --- | --- | --- |
| VARIO 50-200 | VARIO 40-260 | VARIO 50-300 | VARIO 50-400 |
| 50 mm | 40 mm | 50 mm | 50 mm |
| 75 mm | 60 mm | 75 mm | 75 mm |
| 100 mm | 80 mm | 100 mm | 100 mm |
| 125 mm | 100 mm | 125 mm | 125 mm |
| 150 mm | 120 mm | 150 mm | 150 mm |
| 175 mm | 140 mm | 175 mm | 175 mm |
| 200 mm | 160 mm | 200 mm | 200 mm |
| | 180 mm | 225 mm | 225 mm |
| | 200 mm | 250 mm | 250 mm |
| | 220 mm | 275 mm | 275 mm |
| | 240 mm | 300 mm | 300 mm |
| | 260 mm | | 325 mm |
| | | | 350 mm |
| | | | 375 mm |
| | | | 400 mm |
Rolleri Vario: request more information